Advertising is simply letting people know that a product or service exists. It is the oil that lubricates any business. Many individuals, digital agencies, and advertising firms spend a lot of money each day to run advertisements utilizing social media and other platforms like Google, Bing, and Facebook, just to mention a few for advertising. Sadly, not many get value for the money spent.
Very few businesses get conversions, leads, or sales. Some do not get conversions at all. This scenario could be frustrating, let's face it- If you have a product or service you intend to bring the public to notice through advertising, but someone else is thinking in the same direction as you, someone with a similar product or service.
This is the competition factor. Commonly referred to as "competitive demand" by economists. The demand for a close substitute for another product or service. This could be due to price, availability, or quality variations. Customers will readily switch from one product or service to another provided it fits their needs.
Now, this is just one factor that could make your ads campaign get lesser conversions. That is the competition factor. Every business wants to remain relevant; every business wants to make sales. So everyone advertises. One might sometimes be forced to ask Is running paid Ads worth it?
The answer is emphatic YES. Setting up an advertising campaign is not the challenge, getting results are, and optimizing your online ads makes them stand out.
How to Optimize your Online Ads for Guaranteed Results
To get your ads campaign running and effectively generating returns on your ads investment, you need a tool that will do the job. The tool is called "Adzooma". Some might have heard the racket it's made as it has entered the digital marketing world. Partnered with Google, Facebook, and Microsoft, the idea is that you can save time and optimize your online advertising, giving you better ROI and a chance to focus on the bigger picture.
It is a great way to boost the success of all your online ads, and best of all Almost all of the features are completely free in what they call Essentials, and you only have to pay if you want to upgrade to Plus.
What is Adzooma?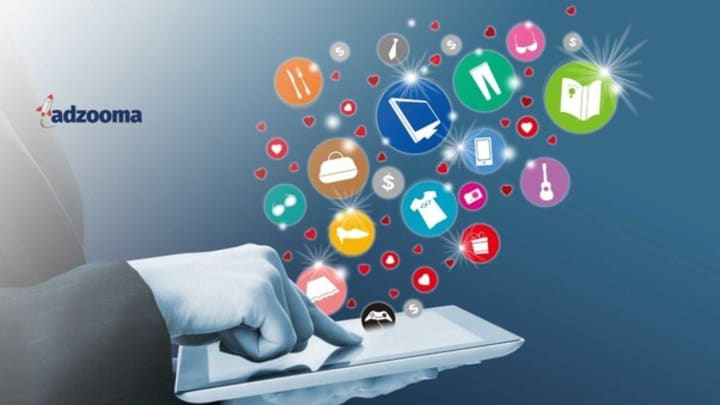 Adzooma is a free AI-driven, intelligent platform designed to help you manage, optimize and automate all your online advertising in one place.
Adzooma has proven to help businesses worldwide achieve results from all their online ads and get value for investment.
It is a free multi-award-winning omnichannel online advertising platform for Google, Facebook, and Microsoft advertising, that helps Digital agencies, advertisers, Internet marketers, and Businesses in the online space to effectively manage, optimize, and guarantees maximum results from all their online Ads.
It's designed to help your team prioritize the tasks that will produce the biggest impact for you or your clients. Adzooma is carefully designed to help connect Digital agencies with potential prospects looking for their service. And we all want that right?
Adzooma has a great Marketplace that is designed to put you and the best marketing services together to improve your business. Adzooma covers a whole range of services which include, but are not limited to SEO, email marketing, PPC, content marketing, UI/UX, web design, graphic design, etc.
It allows you to manage your local listings, reviews, SEO, website optimization, paid ads, and marketing reports all in a single platform — to reduce your workload and deliver results faster.
Analyzing over 240 metrics across your Google, Facebook, and Microsoft campaigns, you can make improvements in just a few clicks. it is a handy piece of software because it has everything you need to keep on top of your campaigns at the same time as pushing them to new heights.
Benefits of using the Software for Optimizing your Ads Campaign
The software is packed full of really useful, time and stress-saving features to reduce your workload and ensure your advertising always runs smoothly.
Here are some of the more advanced features you'll be using:
1. Create, Manage and Optimize Paid Ads
The software helps individuals, digital agencies; marketing and advertising firms manage, optimize, and grow their Google, Facebook, and Microsoft advertising campaigns all in one, easy-to-use platform. Additionally, it gives customers $125 when you spend a total of $25 on Microsoft Ads.
2. Listing Management
Quickly and easily update, publish and monitor your business information such as opening times, location and address, phone number, and more across 50+ platforms.
3. Helps your Business Management Score Report
The software-free assessment offers an overall performance score, insights, and actionable next steps to help you understand what's working with your online marketing and where you can improve.
4. Provides automation tools
Helps you spend less time running ads. The platform automates most of the campaign management for you.
5. SEO Made Simple
Maximize your online visibility and website traffic with recommendations that tell you exactly how to improve your Google rankings.
6. PPC Performance Report
An expert snapshot of how your campaigns are performing scored out of 100. Use the suggested actions to improve your success over time.
7. Customizable Reporting
Get essential insights into your business and track how the opportunities you've implemented improve your business over time.
8. Playbook and Courses
Gain expert knowledge, get certified, and grow your business with marketing playbooks, easy-to-follow video tutorials, and accredited courses.
9. Google Analytics Integration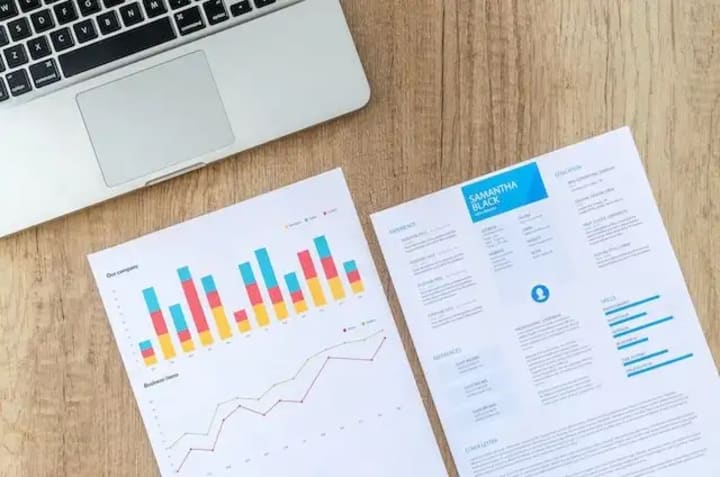 Easily integrate your account with Google Analytics for valuable insights into how users behave on your website.
The software aims to give you a competitive edge by helping you to achieve the following:
1. Reduce wasted spending by adopting best practices
2. Save time by automating tedious tasks
3. Improve performance through personalized optimizations
4. Prioritize important data with white-label, one-click reports
5. Reach more customers and get t better conversion with your online ads
One can easily set up, manage and optimize all their online advertising campaigns on Google, Microso, ft and, Facebook, with one platform. The paid ad optimization and automation tools enable you to run professional advertising campaigns in just minutes per day with zero experience. This means you can dedicate more time to strategy and analysis.
Setting up automation rules
Adzooma's easy-to-set-up automation rules mean that your account can be monitored 24/7, but not by your eyes. The best bit about this is the amount of time it saves you: not having to manually check and update your accounts is a great way to free up your day.
The way the rules work is pretty easy
You click to create a new automation rule
Give it a name
Select the campaign, ad group, ad, or keyword you want to apply it to
Set data parameters and rule terms
Choose to be notified when a change has been made/needs to be made
Discovering unique improvements.
The Adzooma software has an 'Opportunity Engine' which uses the data in your ad accounts to suggest opportunities to improve performance. The suggestions come from analyzing over 240 metrics and include things such as "Pause Underperforming Keywords" and "Created Shared Negative Keyword List". The engine also checks the smallest details like spelling and grammar mistakes, something which you don't get inside Google.
Makes it easy to keep optimizing as the opportunities available to you refresh every 24 hours. If an opportunity that was once shown to you is no longer your best option, it'll be hidden from you. It's not like other pieces of software which stagnate after the first couple of uses instead it makes you feel like they're here to help you now and in the long run.
Each improvement that you click gets added to a queue and you get to see the total amount of time, money, and additional clicks that are estimated to be gained as a result. It's a lot easier to have suggested changes just waiting for you than sifting through data to try and find them yourself.
One-screen account management
For me, one of the biggest annoyances with managing PPC campaigns is when you have to flick between multiple platforms. If I've got a client with Google, Facebook, and Microsoft ads running, I have to remember three separate logins to make three lots of changes — that's without knowing which is on fire and which you should tackle first.
I'm a fan of the management screen because it lets me look at everything at once. It's nice to see a full breakdown of the campaigns and be able to drill down into specific ads and keywords. From here, you can pause campaigns, change budgets and see everything at a glance. This bird's-eye view makes you feel really in control of what's going on across all campaigns.
Say goodbye to tedious reports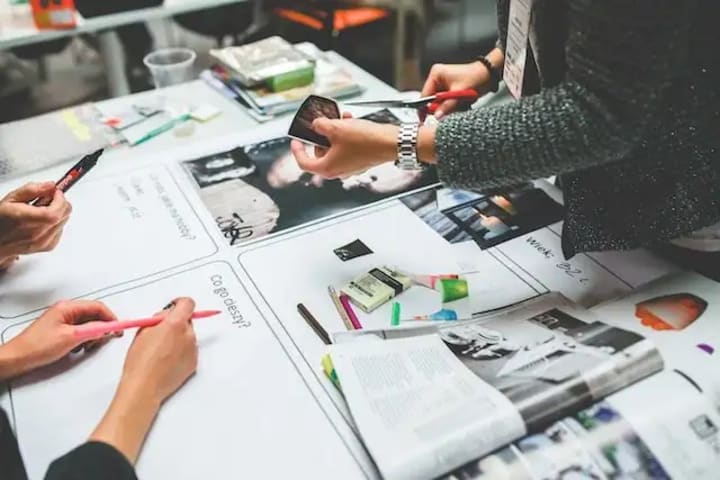 The reporting feature covers a lot of bases when it comes to hauling you out of the depths of PPC reporting hell. It works twofold: you gain access to six predefined reports that can be generated with a click and you can create your custom white-label reports to send to clients and colleagues.
It's pretty sweet to be able to find out things such as which is your worst performing campaign at the click of a button with the Best & Worst Performer report, for instance. I found if I was short on time that this helped me to know exactly where to start. This, coupled with the management tab, guided me to make what I felt were optimal changes.
The reporting feature inside the platform allows you to produce fully customizable reports to which you can add your logo to. This is something I liked as it felt like I was taking a shortcut and wasn't being grassed up for it. Selecting the data and formats is simple and the platform lets you save it as a template that automatically refreshes with the new data.
How to Make Changes with One Click
This is another great part of the platform: one-click changes. Here in the Opportunity engine, you can apply all your queued opportunities in one click. As all the optimizations have been found for you, all you have to do is check you're happy with them.
The Best Thing about the Software
Being free is the best thing about the software, but the second best thing is that they always want to improve their product and they're always looking for feedback to improve it even more.
Over the last 12 months, the platform has evolved and new features seem to be continuously added their Community support group also means there's a way to get help 24/7, and is a great way to interact with other users. You don't feel like you sign up and get abandoned which is always nice.
What about the Marketplace
The Adzooma marketplace is designed to connect digital agencies with potential prospects looking for their services. It's separate from the optimization platform, but since the platform has 50,000 connected users, the Marketplace is constantly being scoured by thousands of digital marketers.
It's where businesses and agencies get together to find their perfect partner, featuring experts in SEO, PR, website design, CRO, e-commerce, PPC, and so much more.
The types of services currently being offered by Adzooma include:
1. A/B Testing
2. Affiliate Marketing
3. Amazon Marketing
4. Content Marketing
5. CRO
6. Digital PR
7. E-Commerce
8. Email Marketing
9. Marketing Strategy
10. PPC
11. Promotion Design
13. SEO
14. Social Media
15. UI/UX
16. Video Production
17. Web Analytics
18. Website Design
19. Website Development
20. Website Hosting
Getting started seems easy too. It's just a three-step process (or just two if you're already on the growth/agency package). Simply choose your package, create your listing alongside a member of their team and your listing is ready to go. Plus, as well as putting your agency front and center, you can also request to be an author on the blog and exhibit your expertise to their readers, email subscribers, and social media followers too.
Get your listing in front of traffic from industry-leading websites, high-performing PPC campaigns, and data reports and they're just a few things I've learned since exploring the Marketplace. It seems like an excellent place for both agencies and businesses to find their match.
Missing Features
Nothing is perfect. The biggest problem Adzooma have is with its Facebook offering. I primarily run ads on Google, but for the campaigns I have on Facebook, the optimization suggestions are much less frequent than you get with Google and Microsoft, so if you're looking for the same experience with Facebook, you're likely going to end up a little disappointed.
The introduction of more opportunities and more Facebook functionality, in general, would be a welcome addition and almost an unbelievable product especially for free.
Adzooma Pricing
It offers various pricing options but one can get started completely free with the Essentials plan.
1. Adzooma Essentials Plan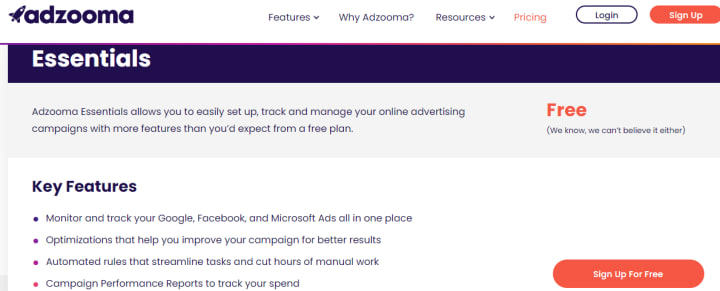 Adzooma Essentials Free plan
Essentials allow you to easily set up, track and manage your online advertising campaigns with more features than you'd expect from a free plan. You have access to essentials for as long as you want, there is no time limit or trial period.
Key Features of Essentials include:
1. Monitor and track your Google, Facebook, and Microsoft Ads all in one place
2. Optimizations that help you improve your campaign for better results
3. Automated rules that streamline tasks and cut hours of manual work
4. Campaign Performance reports tracking your spend
All of their customers get the 'Essentials plan which is forever free", it has no time period or trial period. But as you and your business grow, you may want more advanced features. That's why they've launched "Adzooma Plus". To help support customers looking to take their business to the next level. You can get started with the Essential plan completely free.
2. Adzooma Plus Plan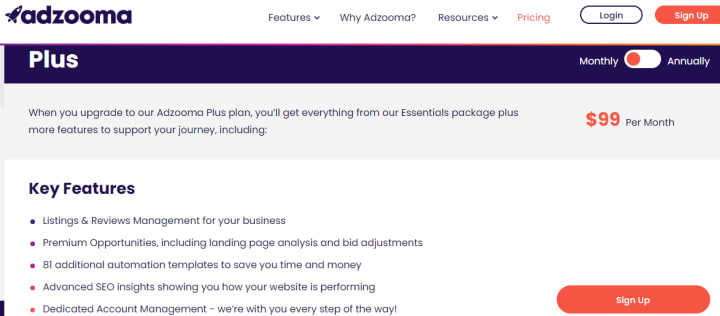 Adzooma Plus plan
Ready to take your business to the next level? Get started with Plus and unlock more advertising success. when you upgrade to their Plus plan, you'll get everything from the Essentials package plus more features to support your journey.
Key Features of the Plus plan include:
Listings & Reviews Management for your business
Premium Opportunities, including landing page analysis and bid adjustments
81 additional automation templates to save you time and money
Advanced SEO insights showing you how your website is performing
Dedicated Account Management — we're with you every step of the way.
Plus offering
If you're looking for, even more, they also offer a paid solution for $99/M. It comes with all the features of the free Essentials plan, plus more advanced tools, insights, and optimizations specifically designed to achieve results. This includes:
18 powerful optimization recommendations to maximize your budget and increase sales
81 time-saving automation templates to give your accounts 24/7 protection
Advanced SEO insights to support your campaigns and beat the competition
Dedicated account management to help your business grow.
The Proposal Builder
It also offers a great feature for agencies called the Proposal Builder. It's $199 a month, which seems hefty at first, but when you look into its capability seems like a bargain.
The Proposal Builder is an onboarding tool for freelancers and agencies, which allows you to achieve the following:
1. Create full Google and Microsoft accounts in seconds
2. Build complete client ad campaigns in minutes
3. Save hours you would normally take to set up a new account
What's awesome about this feature is that it's unique to the market — nobody else offers this kind of thing. It helps to simplify everything, gives you performance snapshots, makes low-spend clients profitable, and gives you faster campaign creation for current clients, It is a must for any agency out there. The time saved makes up for the price tag several times over.
Business solution
The software isn't limited to just individual PPC management; they offer a business solution too. This seems to be a package tailored to the business' specific advertising needs. It's easy to see why the additions of complete campaign builders, API integration, and a client's management dashboard would be ideal for bigger businesses.
Outrank your Competitors
With so many factors affecting your organic website rankings, you need to know your SEO efforts are focused on the right areas. The SEO Performance Report gives you a super-fast way to check your progress and optimize your strategy to avoid hours of wasted time, and the report quickly checks all the essential performance aspects of your website to ensure it runs quickly and efficiently, to keep both the search engines and your visitors happy. You don't need any SEO expert to use the report as everything is broken down and explained in simple terms.
Final thoughts
If you spend a lot of your time advertising online, you'll probably find you get half your life back by using this tool. The one-click optimizations, management, and automation features work hard to take the heavy lifting out of PPC. Custom reporting also means you can re-run template reports over and over with fresh data each time. So if you have clients, this is a real lifesaver.
On top of all that, the Essentials plan is completely free, despite most of its competitors offering similar functionality for hundreds and sometimes thousands of dollars a month.
The tool simply put, is a no-brainer! feel free to sign up for free with Adzooma here