How I fell.... An article by Temidayo Olabanji
---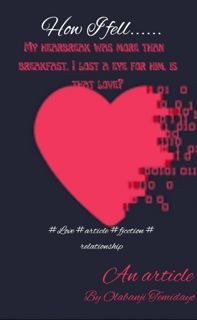 I remember when I met him, he walked into my life like a passenger on a seat. Gush he was just damn beautiful. I couldn't get my stubborn eyes to look away. I wished I plucked the eye like what the Bible says.

I lusted after him even after his soul. Was I dumb? Not a question for me to answer though, because it was so clear that I was.

I wished I plucked the eye and not him plucking it. Three months after we met we got married (do not rush marriage, know that partner first, he could be a demon in an angel clothing).

The day we got married I was definitely the happiest lady on all the planets, I couldn't stop laughing (my parents thought I ran mad) then I started crying (stupid girl attitude).

I was obsessed with him and that was why he brought multiple ladies to the bed, he knew I was going to forgive him anyways. I was stupid

….

"Amanda, these are the files" My junior worker said bringing me to reality.

"Just drop it" I said to her, then she walked away.

…..

On a day, he got angry, he was cutting the apples gently, he is a gentle man (please be afraid of gentle men, they are one of the craziest, not all though only a few) I didn't know what I said then he threw the table knife, within milli seconds it hit my left eye.

The pain still feels alive, he made the eye disfigured but I'm not ashamed of it anymore. My left eye couldn't see again, thanks to Bode (Yoruba demons).

I didn't know what to do but that brought an edge for him to molest me, he destroyed me from within.

I didn't know when I got the encouragement to talk and to speak out, I don't know if it because of my therapist or my mom words.

Though I live peaceably now with a new boyfriend, fighting myself to believe he won't break me again. Bòdé gave me something more than breakfast…..

Last word from Dayo

I know how it feels to love, I have also, some situations are annoying, for an example the other person that you love doesn't love you back is kind of sad. But that doesn't mean you lust, love not lust, love not obsessed and, if you feel you don't want to love calm down don't force it, there is nothing bad in saying a no if you don't have feelings. Never force a thing (maybe apart from forcing yourself every night to read to get the papers, or forcing yourself to research to be financially buoyant like Elon musk or too get rid of that fat it gain muscles)

I hope you like it

Share - How I fell.... An article by Temidayo Olabanji
Send bitcoin to this address