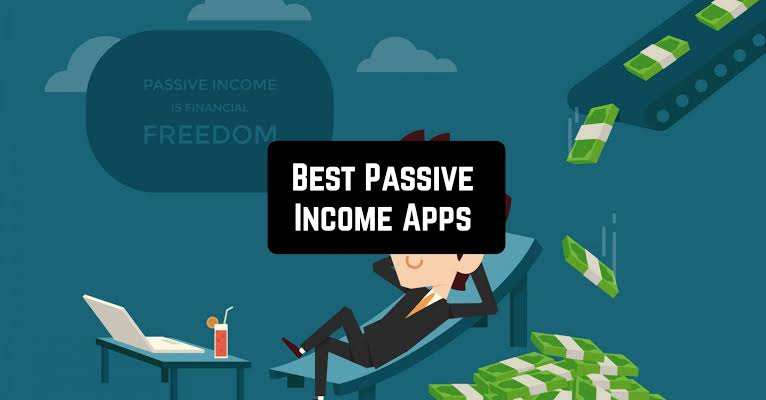 Apps that make you passive income
In my new blog today I'm going to show you some more apps that you can use to start earning money and best of all some passive income. I've personally tested all theses apps so that you know that their legit and not scams. All of these payout in PayPal or some sort of gift card so that's how we will be getting our payments. These apps are all free to use so don't worry about having to spend any money because you won't be here. Last final thing I wanna discuss I'm not sponsored at all by these apps I just find them super helpful although I will be putting my referral code and links in the post so that I can help you earn more and you can help me. Now lets dive into these apps and get you started making money and start generating you some easy passive income.     

Be My Eye

This app is good to use if your always shopping in store or live in the city or close to stores. What you do is your given a job with a task you have to do. It all depends on the job you accept. One of the jobs could be taking some pictures of the store and the products on the shelfs. Another job might just have you buy gas from the local gas station and to just rate your experience. All the jobs vary with the task you'll be doing so it's all not the same. Great app to get paid while doing some shopping.   


1Q

This app is a quick survey app that you can download for free. Unlike other survey apps this app sends you surveys. They make sure to qualify you too before you take the surveys. How ever you won't get as many surveys like you would with other survey apps. But no matter what you'll always be qualified to take the ones you get. You could also get the surveys through text if you want more storage on your phone or the apps doesn't work for some reason.    
Steady

Now technically this app doesn't make you passive income but does help with saving money and getting money. This app is a personal finance app that helps you plan and save your income. It tracks your credit and debit cards and lets you know how much you made for the month. It also gives you resources to plan your income and pay checks out so you don't spend it all. This app also has a job finder tool that's useful. You can find normal 9 to 5 jobs on here along with free lance work as well. Great app to start planning and saving so make sure to check it out cause I know most of you have a hard time saving and planning out your income and checks.   


Free Litecoin

 This app is made by the same people who made the free bitcoin cash app I talked about in my last blog about apps that make money and passive income. In this app you can do task to earn free Litecoin. You get free spins as well and more when you watch ads to get Litecoin. They do payouts every Thursday it does take a while to build it up to withdrawal minimum if you aren't on top of it. Also the amount of ads on it sometimes can be a turn off from using the app. There is a limit to how many spins you get but it does refreshes every hour. So you can keep doing this all day.    

Coinout

This app is like the other apps we've discussed before on previous passive income app blog post. What you do is you can with any receipt you have is scan it by taking a picture. Then you summit it and get paid. Now unlike the other apps I've discussed that pay you to scan your receipts this one pays out straight in U.S dollars. Payment on receipts vary on the size of the purchase and how long the receipt is.

My Final Words

If you enjoyed the blog leave a like and share it with somebody. Leave me some feedback with your comments to let me know how I did. Let me know what you liked and what you didn't so I can improve the blog. All your likes and comments are deeply appreciated. Follow the blog to stay up to date along with my socials also make sure to check out my website where you can put in a submission form to let me know what topics you want me to cover. Thanks for reading hope you enjoyed.

Earn Free Bitcoins and other crypto (Referring) : 👉  

Binance: https://accounts.binance.com/en/register?ref=CJGVZCGU

PI token Mining : https://minepi.com/ecodebase and use my username (ecodebase) as your invitation code.

Bee token mining : Here is my invitation link for BEE Network. Use the invitation code: (basiru) Download at: https://bee.com/en/download

Global-hive: https://globalhive.io/r/168363

Coin token : https://coin.onelink.me/ePJg/a23b1bd9

Hashshiny: https://hashshiny.io/r/NY3492137

StormGain: https://app.stormgain.com/friend/BNS19379022.

Remitano: https://remitano.com/btc/ng/join/2815124

Share - Apps That Make You Money
Send bitcoin to this address