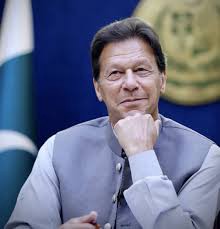 Imran Khan is a Pakistani politician, former cricketer, and philanthropist who has been the Prime Minister of Pakistan since 2018. He was born on October 5, 1952, in Lahore, Pakistan, to a family of Pashtun heritage.
Khan's early years were marked by a passion for cricket, and he quickly became a star player. He played for the Pakistani national team from 1971 to 1992, serving as captain from 1982 to 1992. During his tenure as captain, he led Pakistan to victory in the 1992 Cricket World Cup, cementing his status as a national hero.
After retiring from cricket, Khan turned his attention to politics. He founded the Pakistan Tehreek-e-Insaf (PTI) party in 1996, with a vision of building a new Pakistan based on justice and equality. Khan ran for political office several times over the years, but it wasn't until the 2018 general elections that his party emerged victorious.
As Prime Minister, Khan has made a number of efforts to reform the government and improve the lives of ordinary Pakistanis. He has launched initiatives to combat corruption, improve healthcare, and expand education opportunities. He has also taken steps to improve relations with neighboring countries, including India and Afghanistan.
Khan has been a vocal advocate for environmental conservation and has launched initiatives to combat deforestation, protect wildlife, and reduce carbon emissions. He has also been a strong proponent of women's rights, promoting gender equality and taking steps to combat domestic violence and harassment.
Despite his efforts, Khan's tenure as Prime Minister has not been without controversy. He has faced criticism from opposition parties, and some have accused him of cracking down on free speech and press freedom. Nevertheless, he remains a popular figure in Pakistan, and many see him as a symbol of hope and change for the country's future.