Many people are constantly searching for how to make money online on a daily basis. This article will provide useful answers to how to make money online by simply using your smartphone or a laptop to complete simple tasks.
The internet has made it very possible to earn money even without investment. There are some very legitimate websites you can sign up to and start earning money online beginning today. Most of these sites are so flexible that you can perform tasks or gigs from anywhere and at any time.
One of these websites is called Sproutgigs.
Sproutgigs is an online platform for freelancers that offers you cash for completing short tasks, and long-term, ongoing jobs too. It is an online marketplace connecting freelancers with business owners.
Today, you will be finding out how much you can earn on the platform, to help you decide if it is worth joining.
If you are looking to earn a few bucks as the title suggests, then it seems to be a reasonable marketplace for making extra cash from home for those looking for quick cash and for individuals who don't want to commit to long hours of work.
Introduction to Sproutgigs:
They are a US-based corporation that launched its website in 2013 with the message that everyone may now work and earn money online.
Sproutgigs can be a website worth taking into consideration if you want to earn money online.
How To Register At Sproutgigs:
The process of creating an account with Sproutgigs is straightforward. You only need to provide your full name, email address, and country of residence.
You will also create a profile page by entering your username, profile page title, and a short bio. Your Sproutgigs account will be credited with a signup bonus worth $0.50 as soon as you verify your email address.
How Does Sproutgigs Work?
Sproutgigs is divided into two sections, one for employers and one for workers. Employers post various jobs and small tasks on the site for workers to complete. Some of the most common tasks include:
• Signing up for websites
• Watching YouTube videos
• Liking Facebook pages
• Following social media accounts
Once you have signed up, you will find different types of tasks. Tasks never run dry as they are posted almost on a daily basis. The Pay range from around $0.02 to $0.25, and some tasks pay up to $1 and $1.50 respectively.
So by completing up to 4 tasks that pay $0.25 you can earn $1. The amount of money one can earn is dependent on the worker. By clicking on a task, you were taken to a page that explained what was required, and the proofs you had to provide.
As a worker, you are only required to complete tasks as per the requirements of the employer, and submit proof of completion for you to receive your earnings.
Submitting false proof will result in a red flag and subsequent termination of your account after three warnings.
Sproutgigs has a rating system that ranks workers according to their performance. Employers will rate your work at the end of each job or task according to your performance or results.
You must maintain a success rate of above 75% to continue working on this platform. To achieve a high success rate, all you have to do is to follow instructions accordingly.
The Earning Potential At Sproutgigs: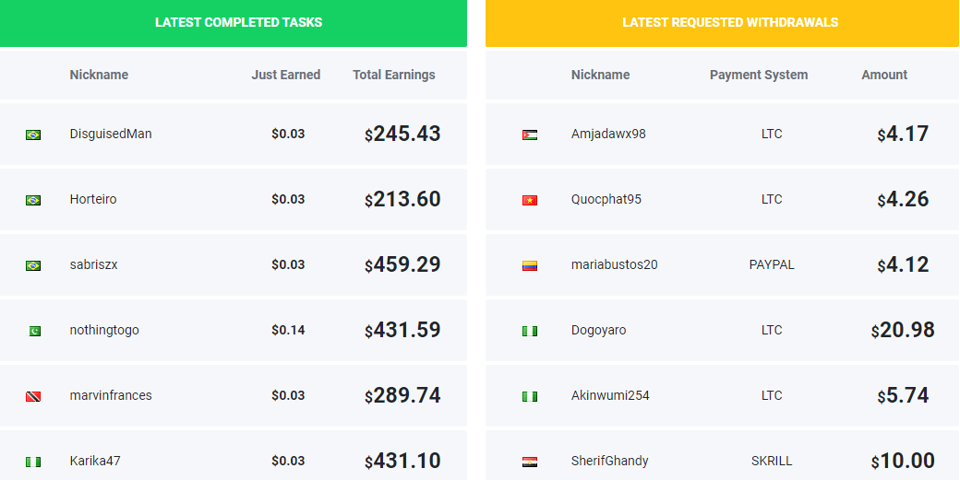 The income potential is not very high but with consistency, one can earn a good amount of money everyday. Short-term tasks pay between 2 cents and 20 cents, while ongoing (long-term) jobs pay up to $15 per task.
The maximum amount of money that you should expect per month once you perform the tasks accurately and consistently is between $30 and $50.
Sproutgigs also has a referral program that pays you 5% of what your referrals earn on the site. However, unless your referrals are active on the site you won't earn a lot here.
It's helpful if you genuinely enjoy working with Sproutgigs and you have managed to earn quite a bit yourself. Your enthusiasm will then be conveyed to your referrals who will then be more likely to use the site themselves.
Getting Paid On Sproutgigs
When requesting payment, Sproutgigs will first verify your photo, and then confirm your full name to establish your identity. You must also answer your security question before submitting a withdrawal request.
The minimum payable balance on this platform is $7.00, excluding the signup bonus, which cannot be withdrawn.
You may request for payment via Amazon gift cards, US bank check, Skrill, PayPal, Payza, Paysafecard, or CryptoCurrency.
Other websites like Sproutgigs include:
Microworkers
Rapidworkers
Click workers
Swagbucks
I recommend that you sign up with all the websites listed so you can maximize your earnings.
Click here to signup with Sproutgigs and start earning money today.