Food blogger of Ahmedabad / Amravati
---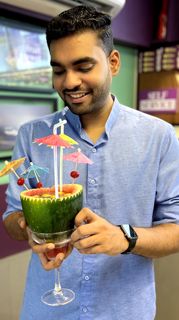 Food Influencer of Ahmedabad - Amarvati

With a unique blog name, @foodie_eraa a.k.a Jatin Gaglani is a young food blogger from Amravati and Ahmedabad. "Don't go to this page empty stomach" is what this profile reads. Living up to the caption, this storyteller brings forward his best culinary adventures in Gujarat, Maharashtra and beyond. His content creation, topped with some of the best delicacies has made him one of the most influential personalities in Ahmedabad. Over time, he has managed to gain a dedicated follower base, thanks to his unique content creation and authentic blog posts. So, if you are a food enthusiast looking for delectable insights about food and travel, do follow his blog!

From street style to gourmet, from traditional to overseas, Jatin brings together a beautiful angle to food. He is a blogger, a professional and a food enthusiast, exploring the very elements of food that makes it special. Through his high- quality content, inquisitiveness, and continuous involvement, this culinary commentator has reached this far and has the potential to make it to the list of the best Indian food bloggers soon.

He started his journey a years back and has become quite popular among the city folks. The love for good food is what drove him to share his food experiences with everyone. Each of his post on Instagram and zomato is a stunning presentation of good food that is offered by city's restaurants. Every post shares information that helps people pick a restaurant in Ahmedabad that they must check out. He feels that he has improved over the time and now, with Instagram, he focuses a lot on picture quality. He explains, "For me, the make or break of a dish is the presentation as one feast first with eyes and then other senses come into play. What matters, post that, is the taste, quality, quantity, ambiance and value for money. In Ahmedabad or Amravati people are ready to pay if they get good food at a genuine price. So, for me, all these factors together should be known to my followers so that they can make informed choices. Food blogging only started out as a hobby for me but now I like doing it." Some of his favorite hangouts in Ahmedabad are Shambhus at Rajpath rd, Urban chowk, The fusion house, Kurtosshhh, Skyz rooftop restuarant, Cream center - sbr, Kudrati kahumbo, Three quater Indian and In Amravati are Cafe Unplugged, one and half engineers, Kurtosshhh, Hunger howl, dockyard. With drool-worthy pictures of street food, this Instagrammer is creating the buzz and is adding oomph in the blogging scenes of Amravati and Ahmedabad. For an Interior design student, who is also doing projects of interior with karigar Interiors he juggles his time really well between food blogging, studying and work. With more than 20 thousand followers, his Instagram family is surely going to grow more.

Share - Food blogger of Ahmedabad / Amravati
Send bitcoin to this address