KT Gamez making waves in the casual gaming market UAE with it's unique products
---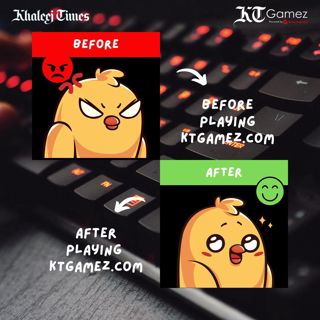 KT Gamez, which is a result of collaboration between Khaleej Times and the gaming studios Giro Gamez is gaining popularity in the UAE market with its unique Play N Win concept. The main differentiating point of KT Gamez is the generous prizes being awarded to players. 

They run multiple tournaments like Play N Win, Register N Win, Refer N Win amongst others. The prize money goes up to AED 200 for each winner. This product has caught the market by storm, given the total cumulative score having reached 112 million in the few short months since its launch. So far, they have awarded thousands of users with exciting prizes.

Gaming has seen a huge boost in the past, with one study from Bloomberg stating that the gaming industry has seen a 23% increase in the year 2020 itself. This number continues to grow as millions of people take part in gaming trends and the category to benefit the most from this is casual and hyper casual gaming. As KT Gamez offers games primarily from this category it is no surprise that user engagement has been reaching new highs every month. Sponsors are also taking note of the growth of this product and quickly booking up advertisement slots to attract new customers. In a study by Ipsos, 47% of gamers remember gaming ads due to its visually appealing nature.

According to studies by Harvard, gaming gives the person's brain a huge dopamine boost, increasing dopamine levels by 100%. This fact has been capitalized heavily by KT Gamez, to bring hours of fun and enjoyment to players. The platform itself contains over 250 free to play, addictive games ranging across various genres available to play on their website ktgamez.com. When they say there's something for everyone at KT Gamez, they truly mean it. With casual gaming being the most popular genre of gaming with a lion's share of 79% market revenue, huge success is most definitely awaiting this product. This is further supported by the current, wildly popular trends of gamification in various industries like education, food and beverage apps, banking etc. 

In an interview with the minds behind KT Gamez, further plans of introducing different kinds of daily, weekly and monthly tournaments were also revealed. They are also planning to offer bigger rewards like gaming consoles, mobile phones, VR headsets in the near future. All of these exciting developments are sure to catch the attention of even more players and truly make KT Gamez a household name in the months to come.

Share - KT Gamez making waves in the casual gaming market UAE with it's unique products
Send bitcoin to this address