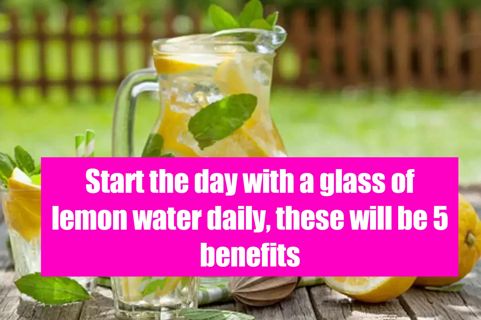 Lemon is the most accessible and reliable source of vitamin C. You can mix it in lentils, vegetables, salads, pickles, anything. The benefits of consuming lemon are not just for your internal health, but also for your skin and nails. Most people like to drink lemon water on an empty stomach in the morning to lose weight. But do you know that starting your day with lemon water every morning not only helps you lose weight but also has many other health benefits. Let us know about its health benefits.

Let us know the benefits of drinking lemon water on an empty stomach every morning.

1 Helps in weight loss Are you trying to lose weight? Lemonade can play an important role in achieving this goal of yours. It is very important to start your daily routine for weight loss, because morning time is considered to be the best time for this work. Mix a few drops of lemon juice in a glass of warm water and drink it on an empty stomach in the morning.

According to a research by NCBI, this magic potion can increase the body's metabolism to a great extent. To lose weight, you need to burn more calories than you consume. A person with a fast and high metabolism uses more calories to perform all their essential functions than a person with a low metabolism.

2 Antioxidant Boost Talking about the benefits of lemon water, nutritionist Anita Jena says that drinking lemon water in the morning can give your body a complete antioxidant boost. Lemon contains a good amount of vitamin C.

Vitamin C is an important antioxidant, which helps to improve skin health and immunity. Protects your DNA from damage caused by free radicals, which can help slow down the aging process and protect you from various heart diseases and cancer.

3 Reduces the risk of kidney stones According to a study by NCBI, consuming lemon water earlier in the day can reduce the risk of kidney stone formation. The main symptom of kidney stones is pain while urinating.

The citric acid in lemon water helps dissolve these calcified deposits and the acid from the lemon helps prevent the stones from clumping together.

4 Helps in digestion The acidic composition of lemon juice helps in flushing out unwanted substances and toxins from your body. Lemonade fights all the causes of production of bile by the liver. It further helps in digestion and detoxification. Apart from this, lemonade also cures bloating, belching and flatulence.

5 Helps to Refresh the Mood A glass of lemon water can give you the energy you need to start the day. Its refreshing aroma is great for waking you up and refreshing your mood. According to various experts, its smell can also curb the symptoms of anxiety and depression. Apart from this, it also freshens your breath.

Share - Start the day with a glass of lemon water daily, these will be 5 benefits
Send bitcoin to this address