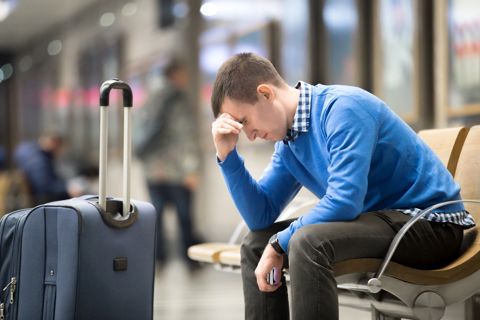 The traveler stranded at the airport in Dubai.

They say out of the beauty of travel comes excitement and hasty choices.

Mr Mystery traveler had a rendezvous to visit his long time friend in China in 2018.

He was very excited as it was his first travel episode over the seas.

of course at the time the tragic pandemic life threatening our beautiful human race wasn't birth.

It is true patience runs away when excitement sets in most times.

Of course he was growing impatient regarding the travel he was overwhelmed with the fact that he will be entering the airplane for the very first time.

The days seemed longer than the used to be and he complained loud to himself when will Tuesdays make way for Wednesdays to set in play lol.

And finally that glorious day were he would enter the big flying bird came and he still became very nervous.

Panic set in but his burning desire to give the experience a try was his only panic companion and eradicator.

He finally got checked in and set for his soft seat where he sat with a frightened smile on his face like Mr Dummy.

It is always true every human have different reactions to new things.

Mr Mystery's reaction to the flight was rather amazing not as expected but the kind passenger by his right which was her first time as he was threw up a million times before arriving Beijing.

ARRIVING BEIJING

Finally they touched down Beijing and it was a heaven-like experience for him he greeted almost everyone on his way at the airport.

He waited for his pickup ride for ages and after 3 hours of waiting there goes his ride with his friend loudly apologizing out of excitement and holding him as tight as ever. of course at that point eve the best rage person in mind will issue a forgiven card.

FAST FORWARDING

He stayed for 08 months and had a blast for a vacation and he always dreams of having such experience once more not until he was caught by the wicket and selfish Covid-19.

He was forced to extend his Visa for another 04 months duration so the situation could be tamed.

Finally it was tamed by the end of the 04 months and he was to leave China but needed a valid covid-19 vaccination or a test to prove he's clean off covid before entering another plane.

he grabbed one for himself and never had an idea it would be the very reason he would be stranded in another yet foreign country Dubai.

ARRIVING DUBAI

Mr Mystery arrived at the transiting country Dubai with a smiling face moving towards the immigration check counter but that handsome smile didn't last a minute and he got informed in a rather informal way "sir your covid-19 test is expired for 1 hour now please we won't grant a pass to you unless you provided another valid test result"

It was the saddest news he had heard in the last 12 months and he was as empty as a beggar without a voice in his situation. having no money and no one to turn to he was left with no option than to be stranded at the airport for 3 days without food, he missed his flight and had to book another without a single dollar at his disposal.

3 days had gone by without any results, and finally a second voice spoke to him "why not visit the mall and talk to someone who might help your situation"

He had no other option so he bought the idea and went begging at the mall for 107 dirhams to remedy his current situation.

Spending 5 hours begging from person to person he finally met a Nigerian Lady shopping.

They've always said nothing good could ever come out of Nazareth then there came Jesus

She was very pitiful and said to him you would not spend another day here alright and he was happy. Then she gave him 200 dirhams and he successfully got his valid covid test withing 10 hours.

He called back home and another flight was booked for him and finally he became free off that stranger stranded tittle at the cold hash winter airport weather in Dubai.

Share - Stranger In Dubai (Stranded at the airport true story)
Send bitcoin to this address