My Twin Sister By Happiness Godsent Come back everyday for a new chapter
---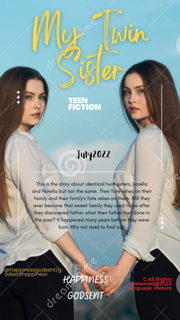 1
Novel Title: My Twin Sister

Chapter One: Missing Family Members.

The weather was unexpected and surprisingly cool, a cool dawn with ugly etched black clouds moving up in the sky. The funny African summer and so damned cool.

The weather made everything damned cool and perfect, made everything feel so good and unpleasant and confusing. The wind whistled noisily and it was totally familiar and confusing unlike the African ways. It was going to rain heavily like never before, damn it. It was a damned unwanted cool morning.

Inside the bed, Lorella laid with her jaw resting on her palm and her belly down, she could feel the rising and felling of her tummy, she wondered why it happened so. It was 7:30 AM, she was reading her science textbook since she was going for a science competition with her co science students or friends at school tomorrow. She have read it a before, but she had made up her mind to read it over and over again, more than a thousand times, because this time, she is gonna be the winner. She had already read up to chapter nine for the seventh time in a month, just one more chapter to complete the damn book.

Suddenly, she heard her mother's footsteps hastily walking towards her room, she imagined the door knob turned and the door wide opened, but she's gonna prevent it, she gat to act fast. She quickly closed the book with a shrug and hid it under her pillow, then laid properly and pretended to still be asleep, leaving her blanket on the floor.

She knew her mother was mad at Norella again, this time it was reality as her mother turned the knob that it cracked and made a tick sound, she kicked the door wide open.

Morella moved towards her sleeping daughter angrily, she gently tickled her daughter "You should be up by now, I never knew you as a late riser, Ella get up and go get prepared for school my angel" She paused and gently tickled her again "Common, get up sweetie". She stooped down to pick up the blanket, then she glanced at her daughter who was already up, now sitting up and rubbing her eyes "Good morning mom" She said lazily. "Good morning too, darling" she threw the blanket at her daughter and giggled "Come on don't be lazy, don't worry, you gonna win this time okay?......And .....You gonna be the champion.....And make me proud....We gonna be weal". She sighed, then continued "No, we gonna be richer, okay?". She was about leaving the room, but she paused and turned to take another look at her puzzled daughter "I give you just fifteen minutes dear to get prepared for school". She glanced at the wall clock "It's already seven thirty-four, but make sure you are outta here by eight on the dot". She gently walked and closed the door behind her. Lorella stretched and yawned hungrily,she looked puzzled, tired, beaten from reading that damn book, she sighed and whispered to herself "Thank God".

It was exactly eight on the dot and she was fully prepared for school apart from taking her breakfast, she carefully dropped her bag behind her favorite dinning chair and sat down as she waited for her meal. Then she remembered some persons, her dad and her twin sister, Norella. But she sat there, like a lost and confused sheep, she just wanted to go to school and rest. She haven't seen her sister,nor her father. She were or wasn't sure. It's already eight,she is late for school. Her mom was angry,but was pretending to be happy, she knew something was wrong with the absence of her sister and father. The house is quiet and boring, but she still kept quiet and sat there.

Suddenly,she heard something dropped down the roof, she thought an aircraft might have dropped down their roof and it seems it was going to tear the house apart. But another came,then another, another.....more of it came. She was a little frightened until she looked through the window and saw heavy drops of liquids falling off the sky like a thick rope or something "cool", she whispered to herself.....rain...... it's raining...... it's raining out there....."No,but am late for school", she whispered again as she staggered and left for school.

Please remember to appreciate my work by tipping bitcoins and commenting to encourage me to publish the next chapter. Thank You🥰. Love you 😘

Share - My Twin Sister By Happiness Godsent Come back everyday for a new chapter
Send bitcoin to this address