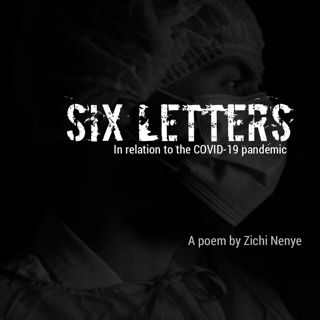 Six letters by Zichi Nenye

Like invisible snakes it crept upon us,

In our sleep,

It came like a thief in the night,

We could not believe the news,

'Twas so bad we concluded it a rumor,

Until it finally showed it's colour.

With it's icy claws it pushed us apart,

Yet locking us up and keeping us gagged,

Hungry, depriving us knowledge.

We were unable to celebrate our joys,

Because of a six letter word.

Just six letters!

Six letters that brought tears to our eyes,

That left our stomachs empty,

And stole our joy.

That took from the world millions and yet bore hundreds.

Six letters that duped us millions of naira,

creating opportunities for scoundrels,

Some up, some amongst us,

To heighten our pain and suffering.

Yet, these letters revealed

The true beauty of melanin,

We learned to appreciate being black,

Our blackness shielded us like umbrellas,

From these six letters,

An antidote to it's venomous fangs.

Yes, we suffered hunger,

But we live!

While the fat white ones were left to die,

Their precautions proving abortive.

A sad ordeal it is, an irony depicted.

But what is left to do but hope?

That these six letters leave us be,

To celebrate our Joys,

To have food on our tables once again,

To build that togetherness that once existed,

And to wipe the tears from our eyes,

Just six letters

Send bitcoin to this address