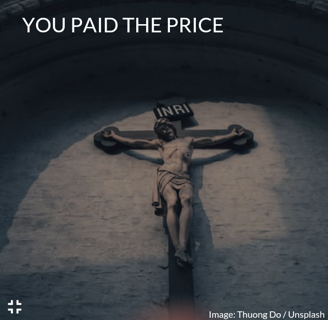 At The Moment Of Spiritual Darkness, When We Are Short Of Your Glory Lord, You Lightened Up And Bridged The Gap Between Us Through Sending Your Beloved Son, JESUS CHRIST.

You Had All The Right And Choice To Ignore Me And Keep Dwelling In Your Heavenly Glory. But Instead You Humbled Yourself To Give Me Another Chance To Restore My Relationship With You.

All My Kind Deserved Punishment Worth Our Disobedience. But Because You're So MERCIFUL And LOVING, You Accepted To Be Crucified On My Behalf In Order To Settle My Debt With God.

Sinful I Am, And In A Disobedient Heritage, I Was Born And Live. But With The Price You Paid On The Cross, Am Saved From All Sin, And Thus Deserve To Be Called SON OF GOD AGAIN.

...Mike Ssendikwanawa...

Share - YOU PAID THE PRICE
Send bitcoin to this address