I always thought it's funny how people lose hope during the bear market, even though we have already seen this play out in the exact same way a good number of times so far. The crypto market behaves as it always has, and that basically means that now is the time to build your portfolio. You won't be able to enjoy the next bull run unless you take advantage of the bear market.
We have been in correction mode for two months or so and this trend may persist for quite some time, but it's not the end of the world. This has occured multiple times in the past, but this time around it's different. We have now seen this happen way too many times to panic. Personally, I believe that the investing decisions I will make over the following months stand a good chance of enabling me to transform my life.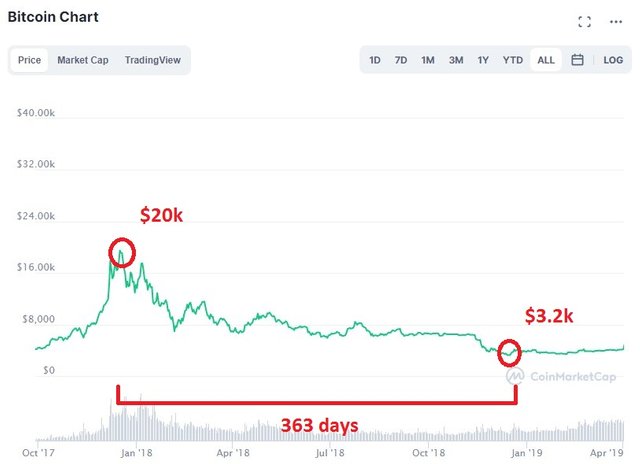 In the screenshot you can see BTC's performance during the run of 2017, which started from $2.8k in August and sent BTC all the way up to the $20k mark in December. Those were great times, and the people who had been accumulating up until August 2017 saw their net worth increase in spectacular fashion. As a result, the crypto game started making a lot of noise and attracting new users at a high pace. Everyone was jubilant and optimistic. Euphoria.
Back to reality.
In the same screenshot you can see that what followed wasn't exactly what you would call great times. An entire year of corrections after corrections that sent BTC's USD value all the way down to $3.2k, fueled insane amounts of FUD and gave doubters and haters something to smile about. The world's Peter Schiffs were talking about the so-called crypto bubble that had finally burst, and how they had been right all along. It's July 2021 now and apparently they were full of shit.
Just imagine how many people gave up hope on crypto and sold their assets for peanuts during that long-lasting bear market that followed the run of 2017. I bet most of them feel like kicking themselves today, even after the recent bloodbaths that removed hundreds of billions of dollars from the total cryptocurrency market capitalization. Impatience is a sin.
This is our chance.
Some say that the best time to buy BTC is always 4 years ago, so I can't help but think the ongoing correction will lure even more newbies into selling off only to deeply regret it a few years down the road. This is one of the main reasons I decided to share this screenshot thingy and write a few words about it today. The thing is that the people who decided to stick around and HODL during the bear market of 2018 and all the way to Q1 2021 are now enjoying life in exotic islands and would never spend five minutes to read this post. Life's just too good.
The interesting thing that you do not see in this screenshot is the fact that it took three years for BTC to touch the $20k mark again. This happened in December 2020. Four months later it was swinging around the $63k mark. It's been only three months since then, and this makes me think that all this FUD is ridiculous. The space has been under constant attack, yet we are not going anywhere.
It pays to zoom out and look at the bigger picture when in doubt. The revolutionary technology behind it all was invented roughly 12 years ago, and has the potential to reshape the way we communicate value to each other and perform transactions on a global scale. All this growth in such a short period of time shows that there's a bright future ahead, so do your best to take advantage of the discount season.
Just get them and forget them, and make sure to invest money you don't really need. That's how you HODL, and that's how you win.
I appreciate your attention.
Alright guys, that's it for now. Thank you for taking the time to read those lines.
Just my two cents. This is by no means financial advice. Just sharing my personal views and experiences. Please do not take my word for your investment choices, and always do your own research.
Stay safe and have a good one.
@ecodebase
Earn Free Bitcoins and other crypto (Referring) : 👉
Binance: https://accounts.binance.com/en/register?ref=CJGVZCGU
PI token Mining : https://minepi.com/ecodebase and use my username (ecodebase) as your invitation code.
Bee token mining : Here is my invitation link for BEE Network. Use the invitation code: (basiru) Download at: https://bee.com/en/download
Global-hive: https://globalhive.io/r/168363
Coin token : https://coin.onelink.me/ePJg/a23b1bd9
Hashshiny: https://hashshiny.io/r/NY3492137
StormGain: https://app.stormgain.com/friend/BNS19379022.
Remitano: https://remitano.com/btc/ng/join/2815124